One of these days, I'll create a post on all the places I've been lured to because of Guy Fieri's Diners Drive-Ins and Dives. But for now, I'll stick to my own local places.

While growing up in the Bay Area, the closest place local diner I've ever been to was Denny's. If it wasn't that, it was another big chain "diner-style" restaurant, like Lori's, or Johnny Rocket's, or Mel's Drive-In. Places like these never gave me that homey-diner feel, but more of a "eat your food and get the F out". But it isn't fair for me to hate on big chain restaurants. Especially because the Bay Area isn't about waitresses calling you "babe" while smacking bubble gum in their mouth, or getting to know the greasy guy that cooked your food. Which is why I could appreciate small towns with local mom and pop shops.

Anyway, this cute little diner is tucked away, a little hidden behind Hollywood video on TV Highway. Mr. G was the one to suggest eating here 3-4 years ago since he drove past it everyday. One thing I like about Mr. G is his desire for small unknown hole-in-the walls. He's the reason why I stopped eating at Cheesecake Factory, Chili's and the like. Anyway, this place isn't a hole in the wall, it's a big shiny diner-car shaped restaurant, but it's a little hidden, so it counts. I don't have a picture of the front of the restaurant at the moment, sorry!

When you walk in, there's a sign that says "Please Seat Yourself" if it isn't busy, or "Please Wait to be Seated" if it is. There are menus at the tables already, and clumsy me, every single time I eat here I always hand the menu back to the waitress! So we came here to order chicken fried steak (food network tends to influence my cravings) but I ended up with something else. My pictures could tell a story by itself.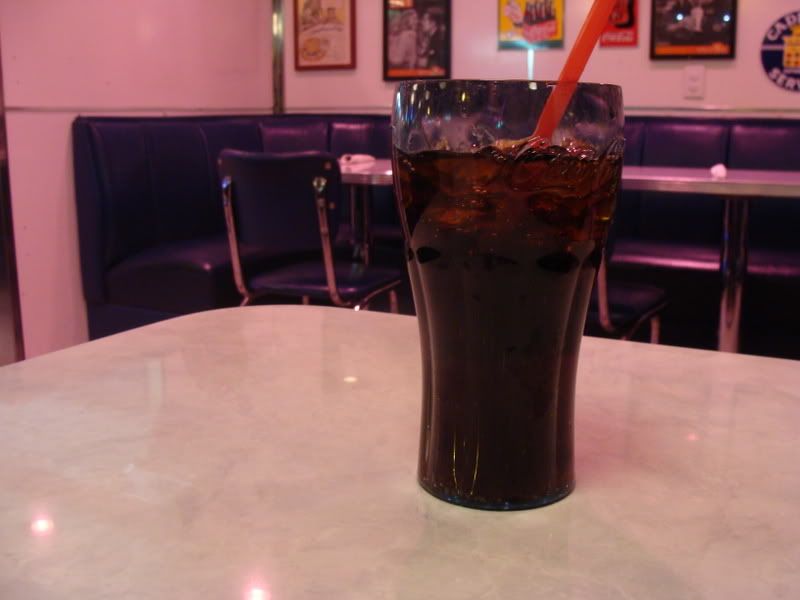 his country fried steak w/ mashed potatoes, potato salad and corn bread